Intelligent Workflow Automation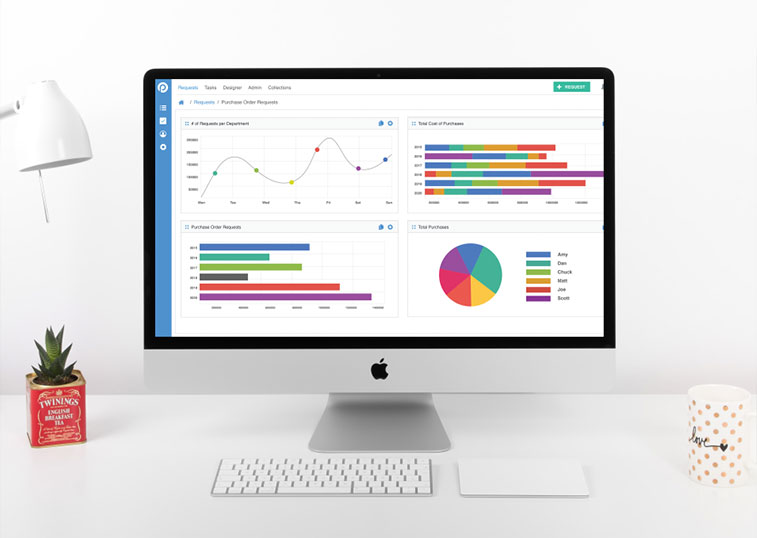 Charts & Reports
Dashboards
Executives, Managers, and supervisors need powerful dashboards to monitor process and ensure that business objectives and Service Level Agreements (SLAs) are being met. ProcessMaker allows charts and reports to be built based on any type of filtered search. These charts can then be shared with users and groups so that everyone has exactly the information they need when they need it.
Empower Business Users
Process Modeler
The modeler empowers business users to design business processes in days, not months. Drag and drop tasks and decision points on to the modeling canvas, and then add in your forms, users, data connectors and more. The ProcessMaker modeler is BPMN 2.0 standards compliant and very powerful. At the same time, it is very easy to use.
Capture & Display Data
Form Builder
Business users can design elegant forms and display screens that are used in the workflows. Forms are used to capture data, display data from other systems, and design approval screens for managers to make decisions.
Approve or Reject Requests
Actions by Email
Actions by email allow decision makers to Approve or Reject Requests directly from their email inbox or from Slack. This component takes the data from any form and renders it in an email along with big green and red buttons for Approve and Reject. This component also works off-line so executives can review and make decisions without a connection and have the system automatically synch when they connect again.
Accelerate Digital Transformation with Low-Code BPAS
Low-Code BPA Insights
Read our leadership insights on capabilities and components of a BPA platform.