Cloud Automation vs Cloud Orchestration: Understanding the Differences
Cloud computing has come along way since the term was first coined on August 9, 2006 by Google's CEO, Eric Schmidt. "What's interesting [now] is that there is an emergent new model," Schmidt said, "I don't think people have really understood how big this opportunity is. It starts with the premise that the data services and architecture should be on servers. We call it cloud computing – they should be in a 'cloud' somewhere."
Today, 90% of organizations utilize the cloud with U.S. based businesses alone spending some $124.6 billion on cloud computing technologies in 2019. Yet traditional cloud computing processes are inefficient and labor intensive. Getting the most out of the cloud requires the implementation of cloud automation and cloud orchestration solutions.
In this article we will look at what cloud automation and cloud orchestration are, how they are different, and conclude with 2 cloud processes that are ideal for automation and orchestration.
What is Cloud Automation?
Cloud automation refers to a set of processes and tools used by an organization to replace manual tasks with automated ones within a cloud environment. As cloud computing continues to increase in popularity, the number of tasks required to manage these environments has grown significantly. Manually deploying and operating functions like scaling, configuring resources, and monitoring performance is inefficient and error prone. Cloud automation is a critical component of a successful cloud transition.
There are two general types of cloud automation: support for corporate data center operations and hosting for websites and/or mobile applications. Using the former, IT professionals seek to achieve the same benefits of public cloud services like self-service features and automated operations within the enterprise. The second type improves network traffic speeds through SDN and load balancing utilities.
What is Cloud Orchestration?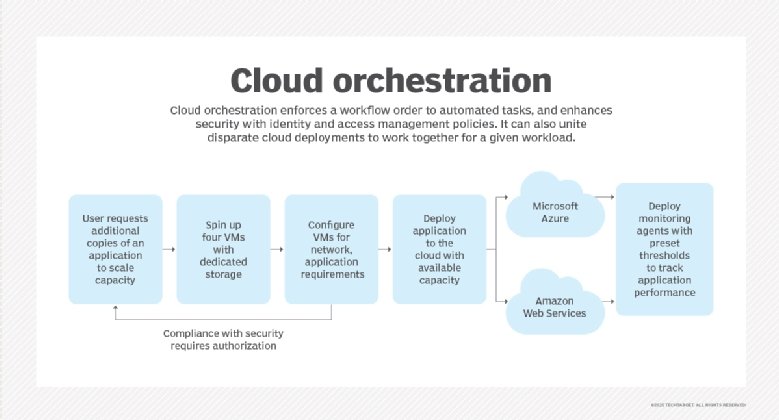 Cloud computing systems handle large amounts of data across disparate environments. This makes it challenging to implement and manage efficient processes. Simply introducing automation is not enough. Rather, organizations must find a way for these powerful tools to work together seamlessly. There is where cloud orchestration comes in.
Cloud orchestration refers to the coordination of automated tasks to streamline workflows. Orchestration occurs at a global level, accounting for every element and process and getting everything to work together through a comprehensive and efficient workflow.
Key Differences: Cloud Automation vs Cloud Orchestration
With cloud automation, organizations use a set of management tools to automate tasks to minimize human intervention. This includes cloud computing tasks like backing up data or auto-provisioning servers.
Cloud orchestration is essentially one level above cloud automation. Organizations use cloud orchestration to schedule and integrate automated tasks between different systems. Much like process orchestration vs automation, cloud automation essentially defines the tasks to be automated while orchestration involves arranging those tasks into a unified approach to achieve defined business objectives.
Other important differences include the role or personnel and resource allocation. With cloud automation, IT professionals must perform manual tasks to deliver the new environment, while orchestration requires far less human intervention. Automation improves efficiency but orchestration ensures the efficient use of all cloud resources.
Two candidates for automation and orchestration
Getting started with automation and orchestration can prove challenging. With more and more organizations using a combination of public, private, and/or hybrid cloud computing, the resulting environments can prove to be complex. So, if you are unsure where to start, take a close look at the following cloud processes.
Backups
Most cloud platforms offer backup and disaster recovery tools. With these tools you can schedule and maintain backups to meet your needs. Removing manual backup tasks will save a lot of time and give you the benefit of added security.
Patching and Compliance
Systems that are out of compliance are a major security risk. With cloud computing tools, you can schedule patches for specific times, avoid downtime, and identify noncompliant devices. Manual patching requires a significant amount of time. Automation tools save time and ensure that your environment is secure.
Cloud computing will continue to play an important role in helping organizations to cut costs, improve security, and scale their businesses. Yet to get the most out of the cloud, organizations will need to rely on cloud automation and cloud orchestration tools.