Intuitive and Efficient

Enterprise BPM Software
Improve efficiency
Our software is customizable to your company's needs. Design, automate, and deploy business processes.
Automate business processes
Use our drag-and-drop process designer to easily model processes with minimal IT involvement and low code.
Streamline tasks
Our solution integrates with applications ranging from ERP, CRM, HR management software, and more.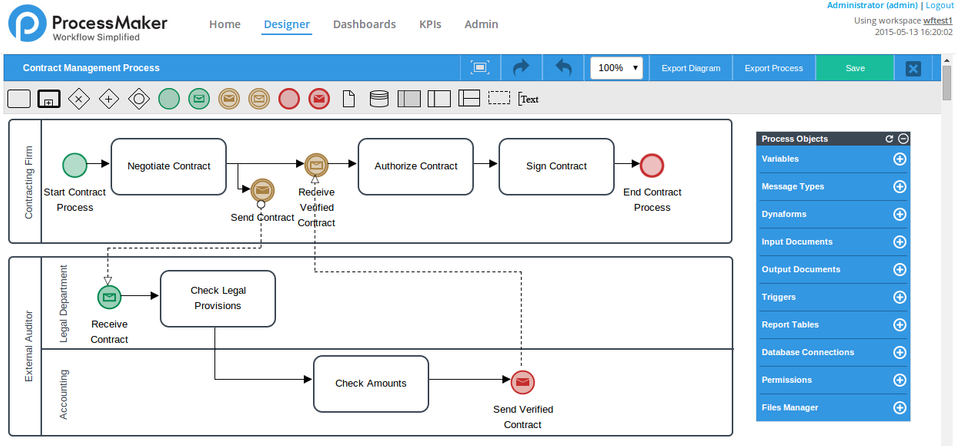 Discover why the world's best-run organizations automate their processes with us
Our solution will help you gain and sustain a competitive business advantage.
BPMN 2.0 process designer
Easily create and edit process diagrams using the BPMN 2.0 standard with our 100% web-based drag-and-drop process modeling tool.
Responsive form designer
Create forms without any code. Our DynaForm Designer includes subforms, grids, and more.
Rest API
Our solution's functionality can be integrated with other standalone or web applications using a standard communication interface.
Advanced dashboards
Measure the amount of improvement that you've achieved with our customizable dashboards. Report on any data in your installation.
Hear what people are saying about us
This is the best approval workflow software you will ever find. It saves us the stress of printing documents such as memo and taking it round offices for concurrence or approval. ProcessMaker does the routing, excellent!
ELIZABETH EGBAAIBON
ACCESS BANK PLC
"
Very open BPM platform, can be connected to multiple platforms. Started to used for quality process, connecting franchises and vendors to validate changes.. it was really useful as we could engage several stakeholders that before had a very manual process.
José Antonio
Coca-Cola
"
I like that simple processes can be automated and put on workflows to improve the efficiency of businesses.
Andrew Ogbenjuwa
Guaranty Trust Bank Plc.
"
You can create quite complex workflows. We started with change management in the IT department and eventually created a very complicated process for contract management including ticklers for contract end dates.
Mark Berman
Siena College
"
Fully-fledged BPM platform with a complete toolset for defining processes, designing forms and integrating with external systems. Well documented APIs (both JavaScript and PHP) and easy to use user portal.
Kostas Petrou
WATT+VOLT
"
The product is easy to install and easy to initially use. This does not mean that the software is not robust. After you get past the initial layer of the easy to use interface, there is a lot of things you can do on the advanced level that takes some time to get used to the terminology and programming the features.
Evan McWhirter
University of Houston
"
It is very easy to design quick process flows across the organization. Also, the flexibility of triggers and actions makes it very easy to manipulate one process to accommodate different scenarios.
Fakrudin Jivanjee
Space Enterprises Ltd
"
ProcessMaker is an award-winning business process management solution
As an early adopter of digital trends, ProcessMaker embraces digital transformation and our software helps enterprises do the same.
Experience our software first-hand and discover true workflow efficiency